MAKE MONEY AS A PHONE SEX OPERATOR

SINCats.com offers MORE Money than any other Online Adult Phone Sex Employer. This means that you receive MORE money FASTER!  We even send your money to you DAILY!  Our website is EASY to use and tons of FUN!  SINCats.com is an adult network in which people from all over the world can make friends, send messages, share images, videos, voice files and have fun.  
If you are new to phone sex or never actually worked as a phone sex performer you should be aware of a few things.  First is that it can be extremely fun.  Probably more fun that you think.  
Next is that there are tons of fetish topics that you might not be aware of.  We have added many of them to our categories list which you can view here.  We currently have over 100 different categories and they range from mild to extremely wild.  
Our website is setup like Facebook.  This means that you can register free, create a public profile, upload images, videos, audio files, post blogs, shouts and send friend requests.  We are a phone sex social network which makes the whole business much more fun because it gives you a chance to make friends while you make money!  
Now let's take a moment to talk about money..  You are probably wondering how you make money and how our system works.  We'll we use pay per call packages.  This means that after you register you can create as many 'call packages' as you want.  For example you may create a call package that is 10 minutes for $10.00 (the price is completely up to you).  Customers will see your available call packages listed on your public profile and on our main call options page.  If a customer wants to connect with you they will click to order one of your call packages.  
You will then receive an automated call from us asking if you are available to accept the call.  If you are you just have to press 1.  The customer then sees that you are available and he is given a unique calling code.  He just enters the code and he is connected to you.  All calls pass through our toll free phone number – so you won't see the customer's phone number and he won't see yours.  All private details remain 100% private.  Once the call is complete you will see the money added to your phone sex performer account instantly!
READY TO GET STARTED?  CLICK BELOW TO REGISTER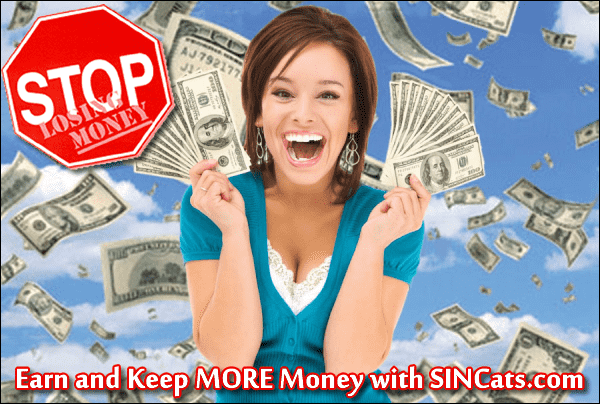 Wondering how you will receive payment from SINCats.com?  We'll we offer a lot of choices.  For example if you want us to send your money to you by direct deposit then we can do this daily!  We can also send by check, money order, western union, money gram, greendot moneypak and more!  We are flexible and try to work with you so you receive your money FAST!
We are happy to help!  Please contact us and we'll answer any questions you may have.